The valves in geothermal wells can be properly protected by weld-overlay cladding with a corrosion resistant alloys (CRA) in the insides of the valves or at the exposed surface with the aggressive geothermal fluids such as acidic or low pH discharges or hyper-saline geothermal brine. Valves are the primary equipment of control in handling geothermal fluids for the geothermal wells and gathering system. It is integral that the equipment can do the work at an aggressive geothermal fluids chemistry without worry of corrosion of the critical parts inside the valves. 
Wilclad can supply geothermal purpose and specification CRA cladded valves such as Master Valve, Through Conduit Valve (TCV), Wing Valve, and Motor-Operated Valves (MOV). Geothermal client can also provide stock material and Wilclad will provide cladding services.
Cladded Wellhead Assembly
The wellhead assembly also include casing head flange, angled port spool, production cross, and production tee. If a geothermal well is servicing aggressive geothermal fluids, cladding of all the components in the wellhead assembly protect the well from material damage.  It will also extend life on the wellhead equipment and better return of investment as it has low probability of unscheduled maintenance. We have identified suitable CRA cladding material that has been proven to work best in an aggressive geothermal environment. The geothermal client can replicate the cladding success using the experience we can provide.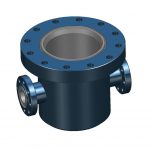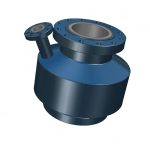 Cladded Angled Port Spool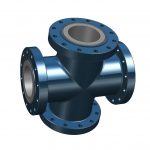 Cladded Piping and Fittings
For a fully protected piping system, weld-overlay cladding with CRA application must also be included in the piping, fittings, Injection and sampling spools. It is our aim to provide full system protection and not allow a gap where the corrosion or erosion problems can attack in the system
Supply of Solid Corrosion Resistant Alloys (CRA) for Casing
The use of solid CRA piping for production casing and slotted liner allows for the geothermal operator to utilize aggressive geothermal wells without acid-neutralization at the reservoir thereby simplifying the set-up of acid neutralization scheme near the wellhead.  For an identified low pH fluid sector in a geothermal field, geothermal operator well construction strategy is to go with using a solid CRA production casing.
For

drilli

ng

requirements such as all casing requirements for well construction.

Material Supply for non-clad items for geothermal fluid gathering equipment such as pipes, valves, fittings and others.